Here's proof of the hypocrisy of morality of Pope Francis and why the Vatican Mammon Beast and the Eucharist is the highest form of Satanic Mass -- because popes and priests have no wombs to reproduce babies and their mouths cannot reproduce Jesus Christ either.
Swiss Guard veteran claims existence of 'gay network' at the Vatican
Former commandant Elmar Mäder says there is a 'secret society of homosexuals' at Holy See, and that it imperils pope's security
http://www.theguardian.com/world/2014/jan/20/swiss-guard-veteran-gay-network-vatican-pope-elmar-mader-homosexual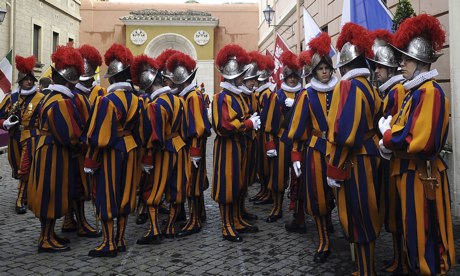 A former commander of the Swiss Guard, the small force of men whose job it is to protect the pope, has said there is "a network of homosexuals" within the
Vatican
, the latest in a series of claims about gay priests working at the heart of the Roman Catholic church.
Elmar Mäder, who was commandant of the Guard from 2002 until 2008, said his time at the heart of the Vatican had given him an insight into certain aspects of life there. "I cannot refute the claim that there is a network of homosexuals. My experiences would indicate the existence of such a thing," he told the Swiss newspaper Schweiz am Sonntag.
Famed for their striking uniforms of blue, red and orange, recruits to the Guard swear to protect the pope and his successors with their lives.
Mäder, 50, from the canton of St Gallen, refused to comment on speculation that he had warned guardsmen about the behaviour of certain priests.
Earlier this month, the same newspaper reported the claims of a former, unnamed member of the Guard that he had been the target of more than 20 "unambiguous sexual requests" from clergy while serving in the force.
Recounting a dinner in a Rome restaurant, the man was quoted as saying: "As the spinach and steak were served, the priest said to me: 'And you are the dessert'."
At the time, spokesman Urs Breitenmoser said the rumoured gay network did not pose a problem to the Swiss Guard, whose members he said were motivated by entirely different interests.
Asked about the claims, Mäder reportedly said stories of this kind "obviously lacking in factual basis" were sometimes told. But the facts remained clear, he added. "
A working environment in which the great majority of men are unmarried is per se a draw for homosexuals, whether they consciously seek it out or unconsciously follow an urge," he said.
"The Roman Curia [the Vatican's bureaucracy] is exactly this kind of environment."
Though it does not condemn gay people, whom it says should be "accepted with respect, compassion and sensitivity," the catechism of the Catholic church teaches that homosexual acts are "objectively disordered" and
calls gay people to abstinence.
Mäder, while he said he did not have a problem with homosexuality, said he feared that a network or secret society of gay people within the Vatican could pose security problems. He added that he would not have promoted a gay man in the Guard – not because of his sexuality but because "the risk of disloyalty would have been too high".
Mäder said: "I also learned that many homosexuals are inclined to be more loyal to each other than to other people or institutions," he said.
"If this loyalty were to go as far as to become a network or even a kind of secret society, I would not tolerate it in my sphere of decision making. Key people in the Vatican now seem to think similarly."
The comments appeared to be referring to a remark made by
Pope Francis
on the flight home from Brazil last summer. "They say there are some gay people here. I think that when we encounter a gay person, we must make the distinction between the fact of a person being gay and the fact of a lobby, because lobbies are not good," the pontiff told journalists, while at the same time joking that, while there was a lot of talk about a gay lobby, he had never seen it stamped on a Vatican identity card.
While Francis signalled a clear conciliatory tone on the issue, he added: "If they accept the Lord and have goodwill, who am I to judge them?" Mäder's comments about the supposed threat posed by gay guards and priests drew criticism among rights advocates in
Italy
.
"Along with all gay people in the armed forces, I would advise Mäder to become better informed," said Aurelio Mancuso, chairman of Equality.
Franco Grillini, chairman of Gaynet, added: "Statistically, gays are the least violent group in human society so if the pope were really surrounded by homosexuals, he could sleep easy."
GOD FORBID NOBEL PEACE PRIZE goes to Pope Francis the biggest thief in mankind's history and worst pathological liar-Jesuit actor of mass deception
Nobel Peace Prize did not sell its soul to Vatican Mammon Beast and did not buy Opus Dei Beast PR media campaign for Pope Francis to win
Malala, 17, is the youngest ever winner of a Nobel Prize. A schoolgirl and education campaigner in Pakistan, she was shot in the head by a Taliban gunman two years ago.
'Married couples are stealing show at Synod of Bishops' - SOB John Allen writes to make idiot Catholics feel-good about all-male Vatican oligarchy
"Do not use, out of order"
Remarks: System broken
Signed: J.C.