Updated September 27, 2015
The statue above retails for $69.95. Your gift to SNAP will support the healing of those that have been abused.
We have been working hard to earn your support. SNAP leaders have been on the ground in Philadelphia, Washington DC,
and New York City. Follow their progress on our website at snapnetwork.org/papal_visit
and on all major news outlets.

Thank you for listening,
Barbara Blaine
http://www.snapnetwork.org/
SNAP · PO Box 6416, Chicago, IL 60680-6416, United States You can also keep up with Barbara Blaine on Twitter.
For example, in his speech before 300 US bishops, he praised bishops and insulted victims – and he proved himself a coward for refusing to name the Vatican crimes against humanity's children as "sexual abuse".

Instead, he nonchalantly and vaguely called them "difficult moments in history".

It was his way of proving that the pope is above-the-law and the Vatican can get away with its Pope Crimes and Vatican Evils as it has done effectively down the centuries.

Read more in our related article,
NEW YORK
Survivors Network of Those Abused by Priests
For immediate release: Friday, Sept. 25
Statement by David Clohessy of St. Louis, director of SNAP, the Survivors Network of those abused by Priests (314 566 9790, davidgclohessy@gmail.com)
Twice in two days, Pope Francis has made vague and brief references to the on-going abuse and cover up crisis, mentioning the pain of church staff but not the pain of abused children and betrayed parishioners. He refuses to even call the scandal by its name.
[
New York Times
]
[
Kern Golden Empire
]
"In his homily before a crowd of priests and nuns," reported CNN, Francis said "You suffered greatly in the not distant past by having to bear the shame of some of your brothers who harmed and scandalized the Church in the most vulnerable of her members," and referred to a time of "pain and difficulty."
Today's Washington Post reports "At a news conference in New York, the Rev. Federico Lombardi was asked why the pope had spoken twice now — Wednesday to bishops and Thursday to seminarians and religious sisters, among others — about the abuse crisis, but never named it explicitly and focused on encouraging the clergy without speaking first about victims."
[
Washington Post
]
And today's New York Times noted the same troubling pattern – talking about how clergy child sex crimes and cover ups impact other clergy.
[
New York Times
]
Francis has made similar disturbing comments about the crisis before, claiming last year that "The Catholic Church is perhaps the only public institution to have moved with transparency and accountability" on abuse "Yet the Church is the only one to be attacked
NEW YORK
Al Jazeera America
In rare public support group meeting, victims called Francis a 'tranquilizer' on issue of Catholic clergy sex abuse
September 25, 2015
by Renee Lewis @Renee5Lewis55
Pope Francis has been warmly welcomed by political leaders and thousands of ordinary people since arriving in New York City, but many survivors of sexual abuse by priests have had a different reaction.
"It's been very difficult for Pope Francis to be in my backyard," said Megan, a member of Survivors Network of Those Abused by Priests (SNAP). "There's still so much hurt."
She and other survivors spoke to Al Jazeera at a rare public support group meeting in New York City on Tuesday, sharing their anger and frustration about what they say is a lack of substantive action by the Catholic Church to hold the priests who abused them accountable. All of them asked to be identified only by their first names.
For some survivors, the visit has triggered flashbacks. Peter said he was abused by a priest in his seminary boarding school starting from the age of 13. During the "kiss of peace" section of the service, the priest would come down from the altar to hug him, Peter said. When Pope Francis was met by President Barack Obama with a hug when he landed at Andrews Air Force Base in Maryland on Tuesday, Peter said those memories came flooding back.
UNITED STATES
The Free Thinker (UK)
Pope Francis has been accused of grossly misrepresenting the Catholic Church's reaction to clerical abuse in the US when he addressed hundreds of bishops at the Cathedral of St Matthew the Apostle in downtown Washington on Wednesday.
According to this
report
, he told the bishops that he was:
Conscious of the courage with which you have faced difficult moments in the recent history of the church in this country without fear of self-criticism and at the cost of mortification and great sacrifice.
He continued:
I realize how much the pain of recent years has weighed upon you, and I have supported your generous commitment to bring healing to victims – in the knowledge that in healing we too are healed – and to work to ensure that such crimes will never be repeated.
John Salveson, a 59-year-old Philadelphia businessman who was abused as a child by a priest, said:
The people he was talking to are the people who moved the pedophiles around to prey on kids. If you gave me 100 years to pick a word to describe the US bishops' reaction to this crisis, 'generous' would never make the list.
Terry McKiernan, who runs BishopAccountability.org, a non-profit group that tracks the abuse scandal, said Francis failed to acknowledge that most dioceses across the country have not disclosed the names of abusers and continue to lobby against reforming statute of limitations laws that shield priests from prosecution for crimes committed many years ago.
It would be a shame if the Pope's words were taken as encouragement by the bishops to continue that behavior.
UNITED STATES
Ms. Magazine
In a statement released Wednesday by the Survivors Network of those Abused by Priests (SNAP), president Barbara Blaine blasted Pope Francis for his praise of US bishops' "courage," accusing the pontiff of doing "little if anything" to meaningfully address the Catholic Church's decades-long sex abuse crisis.
Pope Francis, in a homily delivered at the Cathedral of St. Matthew the Apostle in Washington, D.C., one of several stops on his first US tour, told the nearly 300 bishops in attendance that he was "conscious of the courage with which you have faced difficulty moments in the recent history of the Church in this country without fear of self-criticism and at the cost of mortification and great sacrifice."
Blaine, who founded SNAP in 1988 as a self-help organization for victims of clergy sexual abuse, wasted no time in challenging the pope's characterization of the Church's disastrous handling of the scandals, noting no clergy have been "defrocked, demoted, disciplined or even publicly denounced" despite the revelation of at least 100,000 victims over the course of 30 years of known abuse.
"What sacrifice?," questioned Blaine. "What bishop takes fewer vacations, drives a smaller car, does his own laundry or has been passed over for promotion because he's shielding predators and endangering kids? None."
UNITED STATES
The Worthy Adversry
Posted by Joelle Casteix on September 25, 2015
You can listen to our discussion about sex abuse and cover-up, Roger Mahony, and protecting whistle-blowers
here
.
UNITED STATES
National Survivor Advocates Coalition
by Kristine Ward, September 25, 2015
On this day, when Pope Francis will address the United Nations in New York, we present the images of courageous people who have preceded him in dealings with this international body.
See in the faces of leaders in the Survivors Network of Those Abused by Priests (SNAP) Mary Caplan and Megan Peterson the nobility of rising from the hopelessness that molestation can impose as rigid bondage to the conquering of fear and rising to a summit place knowing that the foundation for the rise is truth. megan peterson
See in the face of Pamela Spees, an attorney for the Center for Constitutional Rights, the combination of steel determination for justice and the honing of intellect to bring to bear on a world power, one which claims to be a moral guide for the planet, no less than accountability for what has happened and continues to happen to children by men and women in its ranks.
We place these images in our pages today in the hope that we may give strength and comfort to the survivors of sexual abuse who have been so cruelly treated by the pontiff by his choosing to pay tribute to the bishops of the United States in their handling of the sexual abuse crisis and to characterize them as being men of courage. Men, he said, who are selfless in divesting themselves of all unessentials in order to right the wrongs of the scandal.mary caplan
Nothing could be further from the truth.
With his words, the Pope abandoned the survivors to the barrios of inconsequentiality – the very place into which he reaches to lift all others up and to encourage and urge others to follow him.
POPE FRANCIS CONTROLS THE Government,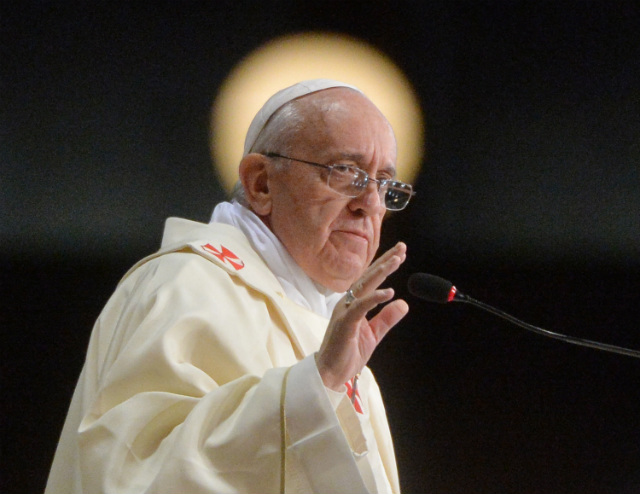 HOMOSEXUAL POPES
Little Sisters of the Poor
Everything is planned by the Opus Dei Beast PR Deceits Team, there are no chances and coincidences and spontaneous impromptu papal actions such as his visit to the Little Sisters of the Poor – to empower them – in their fight against Obama's health care for contraceptives and abortion.
Today it is NGO's who are doing works for the poor. While there may some nuns left in the U.S. they are a quick fading species.
Look at some LA nuns who can't even count on the pope to help them they had to go through secular lawyers to solve their problem with their Opus Dei bishop in LA. Read more in
LA nuns sue Opus Dei Bishop Gomez for convent sale to Katy Perry.
http://popecrimes.blogspot.ca/2015/07/la-nuns-sue-opus-dei-bishop-gomez-for.html
We won't be needing hypocrite nuns soon - because they only empower the Vatican Autocracy of Pope Francis and satiate the Vatican Mammon Evil Beast.
Join the concert in Central Park this Saturday to end global poverty
https://www.globalcitizen.org/en/festival/2015/
Vatican Holy Shit! Before his trial, Jozef Wesolowski the JP2 Army highest pedophile Papal Nuncio Archbishop pimp suddenly dies – mysteriously – as John Paul I
/
Pope's Blind Spots: * Militarism * Child Sex Abuse