Inspired by St. Michael the Archangel whose flaming sword protects us and guide us on what to blog
Updated September 25, 2015
Below are our rebuttals on the pope's speech in congress. But first we'd like to point out some related matters. In his speech before 300 bishops yesterday, Pope Francis cold-heartedly ignored and insulted SNAP and thousands of victims of pedophile priests – by praising the bishops -- who battled against these victims via expensive lawyers and deprived them of justice. We wrote that, "
This time Pope Francis proved how out-of-touch with reality (VA) Vatican Autocracy is in his tiny fake country". With today's events at Capitol Hill and canonization of Junipero Serra, we realize that

-- it isn't that the Vatican and Pope Francis are out-of-touch with reality – but rather – they can astutely manipulate, tamper, corrupt and distort reality – and they disingenuously make what is evil look good – and what is false appear like truth.

Francis

made those evil bishops look good as he lauded them

for their "courage" and for their
"without fear of self-criticism and at the cost of mortification and great sacrifice" – which are all false because they protected bestial predator priests for decades. Francis used the vaguest words "difficult moments in history" and never uttered the harsh reality of "sexual abuse" and "cover-up" – to define the Vatican crimes against humanity's children for half-the-20th-century – condemned twice by the United Nations. Today he canonized a Franciscan genocide murderer from California – again

tampering with history – by making an evil man as a saint

. Alas, we are witnessing here P

ope Francis who "lies for a living" because the Vatican is a city that "lies for a living" (

like Hollywood). Pope Francis praises the evil bishops who covered-up evil pedophile priests because he too covered-up the highest ranking pedophile Papal Nuncio Archbishop - who mysteriously dies before his papal trips to Cuba and USA and the premiere of movie Spotlight in Venice.
The Death in the Vatican
led to the death or rather Spotlight in Venise! We are witnessing Pope Francis
the
Devil in action… the great Lucifer the Angel of Light is personified and embodied in Francis the Pope in White – the greatest Jesuit Master of Deceits mankind has ever seen, see images below.
But then, why should Pope Francis mention "sexual abuse" when he has already paid tens of millions of dollars to Hollywood A-list actors "to heal victims" with the Opus Dei Beast produced movie "Spotlight"? And cunning as he is, he expects to have all those millions investments back from the box-office when idiots Americans Catholics will go to watch the movie.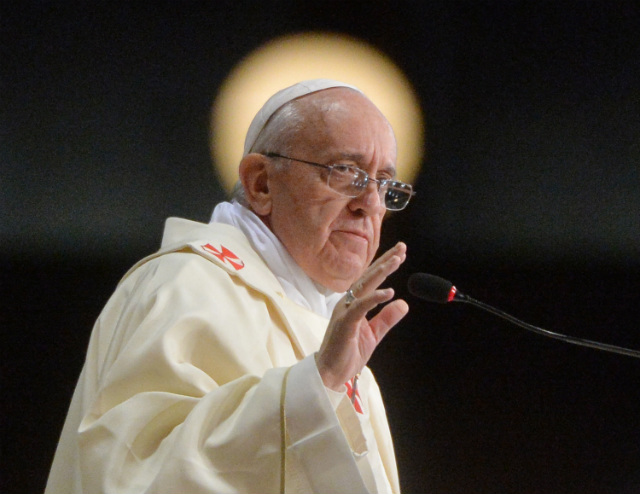 The first line of Pope Francis' speech began with one of the biggest pathological lies concocted by the Vatican Opus Dei Beast PR Dei Deceits Team. Francis said, "
I am most grateful for your invitation

to address this Joint Session of Congress"
. The fact is this invitation was orchestrated by the Vatican and it was easy to get since Opus Dei already control many politicians in congress and Supreme Court judges.
There's a big difference when one says, "I was invited to the party" versus "I made them invite me…to the party". It was also an Opus Dei Beast PR plan that three former US envoys to the Vatican announced they are supporting Jeb Bush soon as Pope Francis landed in Washington, D.C. American, beware of Jeb Bush because the Bush family is the curse of America. Read our related article, John Paul II's Achilles Heels. George W. Bush's Achilles Heels. Jeb Bush belongs to Regnum Christi of Marcial Maciel. Bush is the curse of America http://popecrimes.blogspot.ca/2014/12/john-paul-iis-achilles-heels-george-w.html
Little Sisters of the Poor
Everything is planned by the Opus Dei Beast PR Deceits Team, there are no chances and coincidences and spontaneous impromptu papal actions such as his visit to the Little Sisters of the Poor – to empower them – in their fight against Obama's health care for contraceptives and abortion.
Today it is NGO's who are doing works for the poor. While there may some nuns left in the U.S. they are a quick fading species.
Look at some LA nuns who can't even count on the pope to help them they had to go through secular lawyers to solve their problem with their Opus Dei bishop in LA. Read more in
LA nuns sue Opus Dei Bishop Gomez for convent sale to Katy Perry.
http://popecrimes.blogspot.ca/2015/07/la-nuns-sue-opus-dei-bishop-gomez-for.html
We won't be needing hypocrite nuns soon - because they only empower the Vatican Autocracy of Pope Francis and satiate the Vatican Mammon Evil Beast.
Join the concert in Central Park this Saturday to end global poverty
https://www.globalcitizen.org/en/festival/2015/
Vatican Holy Shit! Before his trial, Jozef Wesolowski the JP2 Army highest pedophile Papal Nuncio Archbishop pimp suddenly dies – mysteriously – as John Paul I




The statue above retails for $69.95. Your gift to SNAP will support the healing of those that have been abused.


We have been working hard to earn your support. SNAP leaders have been on the ground in Philadelphia, Washington DC,
and New York City. Follow their progress on our website at snapnetwork.org/papal_visit

and on all ma

jor news outlets.


Thank you for listening,
Barbara Blaine
http://www.snapnetwork.org/
Pope's Blind Spots: * Militarism * Child Sex Abuse