Inspired by St. Michael the Archangel whose flaming sword protects us and guide us on what to blog
Pope Francis is desperate to latch on to the fame of 9/11 because he knows the Vatican Titanic is sunken deep in the ocean of moral bankruptcy as a consequence of the Vatican crimes against humanity's children during half-the-20th century – committed by the bestial JP2 Army – John Paul II Pedophile Priests Army – in almost all dioceses across the USA.

Pope Francis has no business meeting with 9/11 victims' families – (3,000 victims were attacked by 19 Muslims) – because his first and foremost priority as Roman Pontiff should be spending time with Catholic victims raped by criminal heinous Catholic priests and punishing all evil bishops who aided and abetted them for decades.

Francis should be spending time with SNAP, the Survivors Network of Those Abused by Priests, who represent 100,000 victims of more than 6,500 pedophile priests in the USA alone.

Why is Pope Francis embracing the victims' families of 19 Muslims attackers but he doesn't give a damn to victims of his own church - those bestial Catholic JP2 Army – John Paul II Pedophile Priests Army named aptly after the pope who reigned the longest but said nothing and did nothing to save and protect children.

The embodiment of the JP2 Army was the pedophile Papal Nuncio Archbishop pimp Josef Wesolowski who mysteriously has a heart attack before his "Vatican trial of the century", before the premiere of the movie Spotlight in Venice, and before his USA-Cuba papal trips.
Read our related article – Vatican Holy Shit! Before his trial, Jozef Wesolowski the JP2 Army highest pedophile Papal Nuncio Archbishop pimp suddenly dies – mysteriously – as John Paul I http://popecrimes.blogspot.ca/2015/08/aug-29.html
In his speech in Washington, DC before 300 bishops, Pope Francis praised the same criminal bishops who aided and abetted and covered-up those bestial pedophile priests – for decades.

He praised them for their "great sacrifice and courage" – did he mean also his own courage for covering-up the Papal Nuncio pimp at the safest haven of criminals in the Vatican?

Francis uses the Eucharist and sacraments to make all idiots Catholics numb to his own Vatican crimes against humanity's children than spanned not only for a year but the entire half the 20th century and the dawn of the 21st century.
SNAP president Barbara Blaine said after Pope Francis' insulting speech praising US bishops last Wednesday:
In a speech today to U.S. bishops, according to ABC News, Francis "does not specifically reference the pedophilia that has rocked the Roman Catholic Church."

He does, however, speak of some alleged "great sacrifice" made by bishops because of the abuse and cover up crisis.

What sacrifice? What bishops takes fewer vacations, drives a smaller car, does his own laundry or has been passed over for promotion because he's shielding predators and endangering kids? None.

Only four US bishops (out of hundreds) have resigned because they hide and enabled horrific crimes, but only after staying in power for years and only after massive public, police, prosecutor and parishioner outrage. (Law, Finn, Piche and Neinstedt)

Virtually none of the other US clerics, (out of thousands) have ever been punished in the slightest for protecting predators, destroying evidence, stonewalling police, deceiving prosecutors, shunning victims or helping child molesting clerics get new jobs or flee overseas.


And no one in the entire US Catholic hierarchy, despite 30 years of horrific scandal and at least 100,000 US victims, has been defrocked, demoted, disciplined or even publicly denounced by a church colleague or supervisor, for covering up child sex crimes, no matter how clearly or often or egregiously he did so.

In carefully-crafted remarks, Francis claims church officials are working "to ensure that such crimes will never be repeated." He knows, however, this is disingenuous. Such crimes are happening right now, all across the world. He refuses to admit this, however, preferring to conveniently imply that somehow, because of tiny, belated and grudging steps forced on bishops in a few Western nations." (Emphases added)
As we wrote in out article after Pope Francis' speech in the House of Congress, "With today's events at Capitol Hill and canonization of Junipero Serra, we realize that

-- it isn't that the Vatican and Pope Francis are out-of-touch with reality – but rather – they can astutely manipulate, tamper, corrupt and distort reality – and they disingenuously make what is evil look good – and what is false appear like truth.

Francis

made those evil bishops look good as he lauded them

for their "courage" and for their "without fear of self-criticism and at the cost of mortification and great sacrifice" – which are all false because they protected bestial predator priests for decades. Francis used the vaguest words "difficult moments in history" and never uttered the harsh reality of "sexual abuse" and "cover-up" – to define the Vatican crimes against humanity's children for half-the-20th-century – condemned twice by the United Nations. Today he canonized a Franciscan genocide murderer from California – again

tampering with history – by making an evil man as a saint

. Alas, we are witnessing here the Devil in action… the great Lucifer the Angel of Light is personified and embodied in Francis the Pope in White – the greatest Jesuit Master of Deceits mankind has ever seen."

We'd like to add – that Pope Francis "lies for a living" -- because the Vatican is the twin city of Hollywood that "lie for a living". He is proving how the Vatican "lie for a living " in action – the greatest pope liar in the history fo mankind.
Pope Francis is desperate to have some relevancy because he knows the Vatican is the most evil power on earth that breeds wars – and so he clings on to issues of climate change and migration – when the Vatican Swiss Banks are responsible for the corruption of the planet by hoarding safely the loots of plutocrats and despots.
USA Victims - Attackers - Leaders
Pearl Harbor - 3,000 victims - 170 planes - Admiral Yamamoto

WTC & 9/11 attacks - 3,000 victims - 19 Muslims - Osama bin Laden



JP2 Army sex violence

– 1,300,000 victims (1.3M) -mostly little boys - 6,500 pedophile priests in USA covered-up by John Paul II, Benedict XVI-RATzinger, Opus Dei = the Vatican Trinity -- with popes, cardinals, bishops who aided and abetted and covered them up worldwide.
9/11 WTC 3,000 victims versus JP2 Army 1,300,000 victims (1.3m).
The Nazis and the John Paul II Pedophiles Rapists-Priests Army were both an inherently evil all-male elite hierarchy born from the Devil's bowels
The Jesuits have been masters of Deceits for more than 500 years since it has been serving all kinds of criminal popes but they always made him as the holiest infallible Vicar of Christ. After half a millennium of controlling the Vatican and the Vatican Bank and the Swiss Banks, Pope Francis is the epitome of Jesuits deception. The Jesuits actually are the army of Satan on earth and combined with the Opus Dei Beast they are the greatest conduit of wars and evils on the planet – because as they brainwash and subdue people to follow Christ or them actually – they are also the undetected conduits of plutocrats and despots. The Nazis is one big example as the Vatican issued for them their new identities and passports so they can go to Argentina, Canada, USA as their safe haven, all for money, mammon, the Vatican Bank was rewarded well by the Nazis. The Vatican Mammon Evil Beast is even worse today in the Vatican Swiss Banks. Pope Francis window-dressing clean-up of the Vatican Bank is all for show, read our article,
Hidden Heist in the Holy See. The SECRET biggest heist in the history of mankind! Pope Francis is the Greatest THIEF on earth.

http://pope-francis-con-christ.blogspot.ca/2014/02/hidden-heist-in-holy-see-biggest-heist.html

.
POPE FRANCIS CONTROLS THE Government,
the MEDIA, the Military and the Police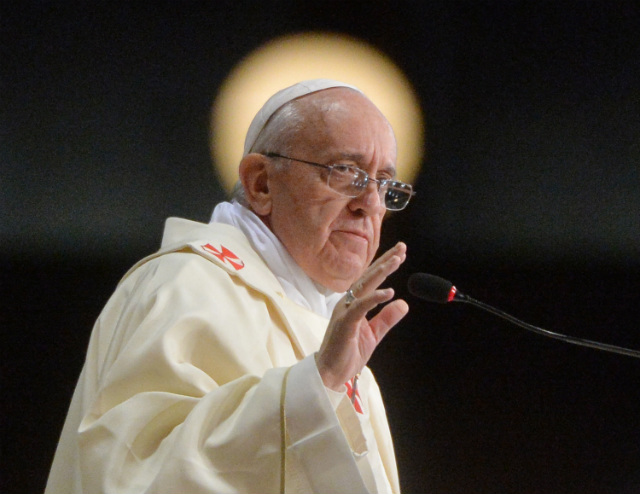 The first line of Pope Francis' speech began with one of the biggest pathological lies concocted by the Vatican Opus Dei Beast PR Dei Deceits Team. Francis said, "
I am most grateful for your invitation

to address this Joint Session of Congress"
. The fact is this invitation was orchestrated by the Vatican and it was easy to get since Opus Dei already control many politicians in congress and Supreme Court judges.
There's a big difference when one says, "I was invited to the party" versus "I made them invite me…to the party". It was also an Opus Dei Beast PR plan that three former US envoys to the Vatican announced they are supporting Jeb Bush soon as Pope Francis landed in Washington, D.C. American, beware of Jeb Bush because the Bush family is the curse of America. Read our related article, John Paul II's Achilles Heels. George W. Bush's Achilles Heels. Jeb Bush belongs to Regnum Christi of Marcial Maciel. Bush is the curse of America http://popecrimes.blogspot.ca/2014/12/john-paul-iis-achilles-heels-george-w.html
Little Sisters of the Poor
Everything is planned by the Opus Dei Beast PR Deceits Team, there are no chances and coincidences and spontaneous impromptu papal actions such as his visit to the Little Sisters of the Poor – to empower them – in their fight against Obama's health care for contraceptives and abortion.
Today it is NGO's who are doing works for the poor. While there may some nuns left in the U.S. they are a quick fading species.
Look at some LA nuns who can't even count on the pope to help them they had to go through secular lawyers to solve their problem with their Opus Dei bishop in LA. Read more in
LA nuns sue Opus Dei Bishop Gomez for convent sale to Katy Perry.
http://popecrimes.blogspot.ca/2015/07/la-nuns-sue-opus-dei-bishop-gomez-for.html
We won't be needing hypocrite nuns soon - because they only empower the Vatican Autocracy of Pope Francis and satiate the Vatican Mammon Evil Beast.
Join the concert in Central Park this Saturday to end global poverty
https://www.globalcitizen.org/en/festival/2015/
Vatican Holy Shit! Before his trial, Jozef Wesolowski the JP2 Army highest pedophile Papal Nuncio Archbishop pimp suddenly dies – mysteriously – as John Paul I




The statue above retails for $69.95. Your gift to SNAP will support the healing of those that have been abused.


We have been working hard to earn your support. SNAP leaders have been on the ground in Philadelphia, Washington DC,
and New York City. Follow their progress on our website at snapnetwork.org/papal_visit

and on all ma

jor news outlets.


Thank you for listening,
Barbara Blaine
http://www.snapnetwork.org/
Pope's Blind Spots: * Militarism * Child Sex Abuse