PLEASE JOIN SNAP PROTEST IN PHILADELPHIA



Saturday, Sept. 26 at 1:30 p.m.





Where:



Outside St. Patrick Church, 242. S. 20th, in center city Philadelphia, PA (where a predator priest worked)
PHILADELPHIA (PA)
Survivors Network of Those Abused by Priests
SNAP: "Prelates fight secular child safety bills"

Battles are being waged in places Francis visits: PA, DC & NY

"Chaput uses flock's donations to protect predators," group says

It begs church-goers: "Donate elsewhere until real change happens"

SNAP: "As Francis talks of 'protecting families,' bishops 'fight them in court'"
What:

Holding signs and childhood photos, after Francis' mass, clergy sex abuse victims will
--urge the pope to make his bishops, in PA & elsewhere, stop blocking better child safety laws,

--urge lawmakers, in PA and elsewhere, to ignore bishops' "self-serving" lobbying efforts, and

--urge Catholics to donate elsewhere until their church officials push for, not against, better laws that protect kids, expose predators and punish enablers.
(Such legislative struggles are pending in each place Francis is visiting: Pennsylvania, New York and DC.)
The victims will also urge all victims, witnesses and whistleblowers
– in every institution that serves kids – to
--report everything they know, see or suspect to law enforcement,

--seek help from independent sources (not church, school, camp or coaching staff), and

--join the growing movement to end or extend archaic, predator-friendly statutes of limitations.
When:

Saturday, Sept. 26 at 1:30 p.m.
Where:

Outside St. Patrick Church, 242. S. 20th, in center city Philadelphia, PA (where a predator priest worked)
Who:

Three-four members of an international support group called
SNAP, the Survivors Network of those Abused by Priests (SNAPnetwork.org), including a Missouri woman who is the organization's long time outreach director
Why:

While clergy sex abuse and cover up lawsuits attract considerable media attention, most victims of pedophile priests can't seek justice in court because bishops exploit archaic, predator-friendly deadlines called "statutes of limitations." Worse, SNAP says, US bishops are spending "hundreds of thousands of dollars" on "high-priced lobbyists" to block moves to reform these rigid statutes that "give wrongdoers incentives to intimidate victims, threaten witnesses, discredit whistleblowers, destroy evidence and 'run out the clock' on child sex crimes and cover ups."
In PA, a bill has been introduced that would give child sex abuse victims more time to file lawsuits. Catholic officials have fought hard and successfully against measures like this in Harrisburg and in every other state capitol where the issue has been raised, SNAP says.
SNAP wants Pope Francis to forbid such "reckless, callous expenditures" that "save bishops' reputations but enable abuse and cover up to continue." The group also wants state lawmakers to pass civil "window" laws that "make it easier for struggling victims to protect others, expose predators, deter cover ups and seek justice."
(Four states have enacted civil "window" laws. As a result, hundreds of adults who committed and concealed child sex crimes have been exposed, fired, demoted or otherwise punished and dozens of criminal prosecutions have taken place that likely would not have, SNAP maintains. The group says "windows" are "the single quickest, safest and cheapest way to expose predators, safeguard kids and end cover ups of child sexual assaults.")
Because bishops exploit tight statues of limitations, very few victims are able to "out" their perpetrators in court. That, in turn, helps predators continue molesting children, SNAP charges.
Catholic officials disingenuously claim "window" measures "unfairly target" churches, SNAP says. But they are "neutral" bills that usually include all private non-profits where child sex crimes are most often covered up. Bishops say over time "witnesses die, memories fade and evidence is lost." SNAP says these factors just make it harder on victims, who face the burden of proof in such cases.
"By opposing these bills, Catholic officials are "putting more kids in harm's way in all kinds of institutions, secular and religious," says SNAP director David Clohessy. "And they contradict all the nice-sounding things Francis says about safeguarding the vulnerable and healing the wounded."
The Hawaii and Minnesota windows are still "open." The California and Delaware ones have closed. They range from one year (California) to three years (Minnesota).
Sponsors of the SOL window measure in PA include Reps. Mark Rizzo of Berks County (610-921-8921) and Louise Bishop (D-Philadelphia).
Similar legislation is pending in New Jersey, where church officials are also leading the opposition.
For a legal perspective on SOL reform: See http://sol-reform.com/ or contact Professor Marci Hamilton of the Cardozo School of Law at Yeshiva University (212-790-0215, hamilton.marci@gmail.com), attorney Jeff Dion of the National Crime Victims' Bar Association (202-467-8700, jdion@ncvc.org) and attorney Jeff Anderson of St. Paul MN (651 227
9990, jeff@andersonadvocates.com). A leading advocate for SOL reform in Pennsylvania is abuse survivor and businessman John Salveson, 215-870-0680, abolishsexabuse.org) of the Philadelphia-based Foundation to Abolish Child Sex Abuse.
http://www.pahouse.com/Rozzi/InTheNews/NewsRelease/?id=69059
http://www.ldnews.com/local/ci_27930604/pa-rep-mark-rozzi-fights-sexual-assault-victims
http://www.washingtonpost.com/news/the-fix/wp/2015/06/08/how-josh-duggar-and-dennis-hastert-could-help-change-the-laws-on-sex-crimes/
For more than a dozen years, (1991-2004). Msgr. Philip J. Dowling pastored S. Patrick's church. According to
according to the Inquirer, he admitted some child sex crimes and "is one of the highest-ranking priests in the Philadelphia Archdiocese to be publicly implicated in alleged crimes against minors," and "a theologian who studied in Rome, taught at St. Charles Borromeo Seminary, and headed the Cardinal's Commission on Human Relations."
http://www.bishop-accountability.org/reports/2005_09_21_Philly_GrandJury/Philly_B.pdf
http://www.bishop-accountability.org/news13/NoDate_Archdioceseof_RevMsgr_Phillip_Dowling_2.htm
Contact:
Barbara Dorris (314 503 0003, bdorris@SNAPnetwork.org), Becky Ianni (703 801 6044, SNAPvirginia@cox.net, David Clohessy (314 566 9790, davidgclohessy@gmail.com)
Another appalling papal comment on abuse crisis
For immediate release: Friday, Sept. 25
Statement by David Clohessy of St. Louis, director of SNAP, the Survivors Network of those abused by Priests (314 566 9790, davidgclohessy@gmail.com)
Twice in two days, Pope Francis has made vague and brief references to the on-going abuse and cover up crisis, mentioning the pain of church staff but not the pain of abused children and betrayed parishioners. He refuses to even call the scandal by its name.
http://www.nytimes.com/2015/09/25/nyregion/pope-francis-new-york-city-visit.html
http://www.kerngoldenempire.com/news/pope-francis-offers-prayers-after-hajj-tragedy
"In his homily before a crowd of priests and nuns," reported CNN, Francis said "You suffered greatly in the not distant past by having to bear the shame of some of your brothers who harmed and scand

alized th

e Church in the

most vul

nerable of her members," and referred to a time of "pain and difficulty."
Today's Washington Post reports "At a news conference in New York, the Rev. Federico Lombardi was asked why the pope had spoken twice now — Wednesday to bishops and Thursday to seminarians and religious sisters, among others — about the abuse crisis, but never named it explicitly and focused on encouraging the clergy without speaking first about victims."
https://www.washingtonpost.com/news/acts-of-faith/wp/2015/09/24/spokesman-implies-pope-francis-will-meet-with-sex-abuse-survivors-during-u-s-trip/
And today's New York Times noted the same troubling pattern – talking about how clergy child sex crimes and cover ups impact other clergy.
http://www.nytimes.com/live/pope-visit-2015/pope-again-sympathizes-with-church-leaders-over-abuse-fallout/
Francis has made similar disturbing comments about the crisis before, claiming last year that "The Catholic Church is perhaps the only public institution to have moved with transparency and accountability" on abuse "Yet the Church is the only one to be attacked
http://www.bishop-accountability.org/statements/#Corriere_della_Sera_Interview
An innovator in other ways, this pope is a throwback on sexual violence. He talks and acts like the church hierarchy is the real victim in this crisis.
He seems humble and preaches "service" but like so many other clerics, Francis seems to put church officials above the rest of us.
Shortly into his papacy, Francis criticized "self-referential" church officials. But he seems to be falling prey to this temptation himself.
We've long sought better papal actions more than better papal words. We still do. But this degree of insensitivity is hurtful. It deters victims, witnesses and whistleblowers from reporting child sex crimes, known and suspected. When in 2015, even this pope minimizes and mischaracterizes this crisis - calling it "difficult moments" for instance – where's even the hope, much less the evidence, of change? Why bother speaking up if even Francis sees the scandal only through the eyes of clerics?
When he meets with a tiny group of carefully-chosen victims soon in a carefully-choreographed setting, Francis will no doubt work harder and will convey compassion. But he's dug a deeper hole for himself this week by these depressing, misguided remarks. Worse, he's set back the cause of prevention.
(SNAP, the Survivors Network of those Abused by Priests, is the world's oldest and largest support group for clergy abuse victims. SNAP was founded in 1988 and has more than 20,000 members. Despite the word "priest" in our title, we have members who were molested by religious figures of all denominations, including nuns, rabbis, bishops, and Protestant ministers. Our website is SNAPnetwork.org)
Contact - David Clohessy (314-566-9790 cell, davidgclohessy@gmail.com, SNAPclohessy@aol.com), Barbara Dorris (314-503-0003 cell, bdorris@SNAPnetwork.org), Barbara Blaine (312-399-4747, bblaine@snapnetwork.org)
In his speech before 300 bishops yesterday, Pope Francis cold-heartedly ignored and insulted SNAP and thousands of victims of pedophile priests – by praising the bishops -- who battled against these victims via expensive lawyers and deprived them of justice. We wrote that, "
This time Pope Francis proved how out-of-touch with reality (VA) Vatican Autocracy is in his tiny fake country". With today's events at Capitol Hill and canonization of Junipero Serra, we realize that

-- it isn't that the Vatican and Pope Francis are out-of-touch with reality – but rather – they can astutely manipulate, tamper, corrupt and distort reality – and they disingenuously make what is evil look good – and what is false appear like truth.

Francis

made those evil bishops look good as he lauded them

for their "courage" and for their
"without fear of self-criticism and at the cost of mortification and great sacrifice" – which are all false because they protected bestial predator priests for decades. Francis used the vaguest words "difficult moments in history" and never uttered the harsh reality of "sexual abuse" and "cover-up" – to define the Vatican crimes against humanity's children for half-the-20th-century – condemned twice by the United Nations. Today he canonized a Franciscan genocide murderer from California – again

tampering with history – by making an evil man as a saint

. Alas, we are witnessing here P

ope Francis who "lies for a living" because the Vatican is a city that "lies for a living" (

like Hollywood). Pope Francis praises the evil bishops who covered-up evil pedophile priests because he too covered-up the highest ranking pedophile Papal Nuncio Archbishop - who mysteriously dies before his papal trips to Cuba and USA and the premiere of movie Spotlight in Venice.
The Death in the Vatican
led to the death or rather Spotlight in Venise! We are witnessing Pope Francis
the
Devil in action… the great Lucifer the Angel of Light is personified and embodied in Francis the Pope in White – the greatest Jesuit Master of Deceits mankind has ever seen, see images below.
But then, why should Pope Francis mention "sexual abuse" when he has already paid tens of millions of dollars to Hollywood A-list actors "to heal victims" with the Opus Dei Beast produced movie "Spotlight"? And cunning as he is, he expects to have all those millions investments back from the box-office when idiots Americans Catholics will go to watch the movie.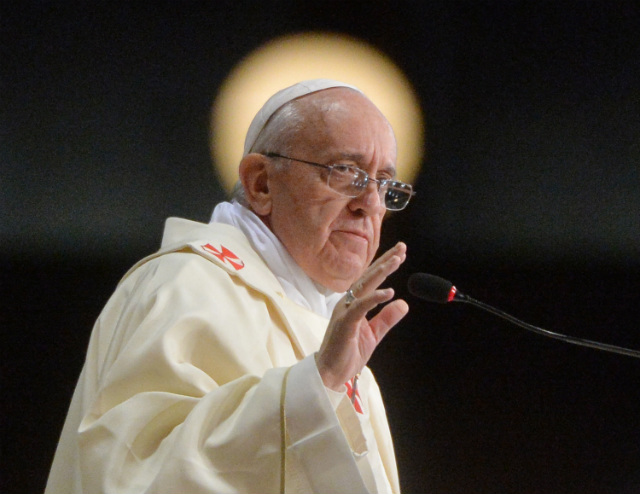 The first line of Pope Francis' speech began with one of the biggest pathological lies concocted by the Vatican Opus Dei Beast PR Dei Deceits Team. Francis said, "
I am most grateful for your invitation

to address this Joint Session of Congress"
. The fact is this invitation was orchestrated by the Vatican and it was easy to get since Opus Dei already control many politicians in congress and Supreme Court judges.
There's a big difference when one says, "I was invited to the party" versus "I made them invite me…to the party". It was also an Opus Dei Beast PR plan that three former US envoys to the Vatican announced they are supporting Jeb Bush soon as Pope Francis landed in Washington, D.C. American, beware of Jeb Bush because the Bush family is the curse of America. Read our related article, John Paul II's Achilles Heels. George W. Bush's Achilles Heels. Jeb Bush belongs to Regnum Christi of Marcial Maciel. Bush is the curse of America http://popecrimes.blogspot.ca/2014/12/john-paul-iis-achilles-heels-george-w.html
Little Sisters of the Poor
Everything is planned by the Opus Dei Beast PR Deceits Team, there are no chances and coincidences and spontaneous impromptu papal actions such as his visit to the Little Sisters of the Poor – to empower them – in their fight against Obama's health care for contraceptives and abortion.
Today it is NGO's who are doing works for the poor. While there may some nuns left in the U.S. they are a quick fading species.
Look at some LA nuns who can't even count on the pope to help them they had to go through secular lawyers to solve their problem with their Opus Dei bishop in LA. Read more in
LA nuns sue Opus Dei Bishop Gomez for convent sale to Katy Perry.
http://popecrimes.blogspot.ca/2015/07/la-nuns-sue-opus-dei-bishop-gomez-for.html
We won't be needing hypocrite nuns soon - because they only empower the Vatican Autocracy of Pope Francis and satiate the Vatican Mammon Evil Beast.
Join the concert in Central Park this Saturday to end global poverty
https://www.globalcitizen.org/en/festival/2015/
Vatican Holy Shit! Before his trial, Jozef Wesolowski the JP2 Army highest pedophile Papal Nuncio Archbishop pimp suddenly dies – mysteriously – as John Paul I




The statue above retails for $69.95. Your gift to SNAP will support the healing of those that have been abused.


We have been working hard to earn your support. SNAP leaders have been on the ground in Philadelphia, Washington DC,
and New York City. Follow their progress on our website at snapnetwork.org/papal_visit

and on all ma

jor news outlets.


Thank you for listening,
Barbara Blaine
http://www.snapnetwork.org/
Pope's Blind Spots: * Militarism * Child Sex Abuse